Batanes is a group of ten islands, three of which are inhabited: Batan, Sabtang, and Itbayat. Do you know that there's a plane that travels from Batan to Itbayat? The flight will take all of twelve minutes. Or else you can travel by boat over and through gigantic waves.
No plane travels from Batan to Sabtang, so we had to do the latter.
We arrived bright and early at the Port of Ivana to catch a faluwa ride. A faluwa is an outrigger-free Ivatan boat that can seat more than 70 people. And motorbikes. The faluwa is designed to just go with the flow, so to speak. It can travel over waves taller than itself, and is perfect for violent seas. So, you know, be like the faluwa.
I unfortunately do not have a photo of it, but here's one from Choose Philippines to give you an idea:
We didn't fill up the faluwa to the rafters (some people mention feeling seasick in a jampacked faluwa) so the ride to Sabtang wasn't that bad. But the waves were pretty strong. The ocean looked like wrinkled fabric.
Our first stop. Look at the grass.
You can see the direction of the wind based on these trees.
Nakabuang Beach. Here we are in front of the famous arc. Thank you to Aica for the photo!
We stopped to register at the Tourism office and try their local tea (the sign says "tea" but they call it coffee, so I'm not sure) called tubho. Tubho is made from a fern.
Batanes streets give you sudden, bright accents of color that I love.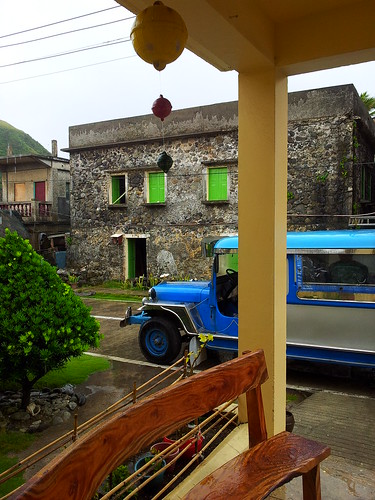 Hello!
Obviously a tourist-y stop. Heh.
We also went to see the stone houses in Chavayan village.
Ate Remy said most Ivatans resort to hollow blocks now, because they're easier to carry. To paraphrase what she told us, it's easy to find rocks, it's hard to find labor.
Like I said, bright accents. Pink curtain, pink door.
The lone police officer for the barangay. Mabuhay ka, kuya.
Here's a church with a cogon roof.
Great view out of the jeepney.
San Vicente Ferrer Church.
The 10 Commandments, in Ivatan.
Ivatan reminds me of my mother's own language (my mother's from Cagayan Valley), Ibanag.
Small schools for a small population.
We headed right back to Basco after lunch. On the way back, the waves were bigger and harsher. One of the men seated at the back suddenly stood up and knocked on the roof to signal to the driver. I thought it was an emergency and oh good I will die here of thirst, surrounded by water. Turned out one of the men caught a deep-sea fish called dorado. The fish was a gorgeous golden color. I don't have a photo, but here's one from Reggie Matteo.
Free time! Some members of the group went biking; I re-read Kazuo Ishiguro's Never Let Me Go and went to sleep.