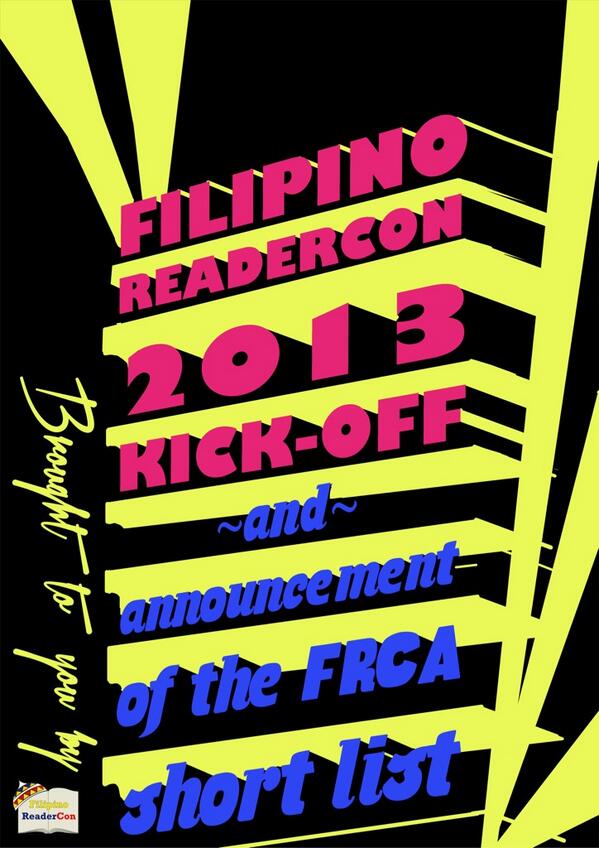 Filipino Readercon – which is happening in November – will have a kick-off event at the 34th Manila International Book Fair – which is happening right now at the SMX Convention Center.
The kick-off event itself, including the announcement of the Filipino Readers' Choice Awards shortlist, will happen tomorrow, Sept. 14.
FILIPINO READERCON KICK-OFF EVENT
September 14, 2013, 5:30-6:30PM
Meeting Room 6, SMX Convention Center
34th Manila International Book Fair

We will be announcing the program line-up for this year's ReaderCon at the event, as well as other online activities that book bloggers and readers can participate in. We will also be unveiling the short listed titles for this year's Filipino Readers' Choice Awards, based on the voting that happened in the past two weeks. These shortlisted titles (3 per category) will be the contenders for the next stage (panel judging) and the winners will be announced on the 3rd Filipino ReaderCon on November 9 at the Rizal Library at the Ateneo de Manila University.

You're all invited to attend the Filipino ReaderCon Kick-off! If If you've never been to any of the previous Filipino ReaderCons, then this is your chance to have a feel of the event. (Spoiler: It'll be fun :D) Attendees may also join The Great Book Swap during the event, a face-to-face book swapping activity. :) (Yay free books!)
My books, The Viewless Dark and A Bottle of Storm Clouds, were both longlisted in the FRCA. Thank you to the readers who have nominated and voted for these titles. Let's see if they're lucky enough to end up on the shortlist. ;) Here once again is the list of nominees.
See you at the Book Fair tomorrow!